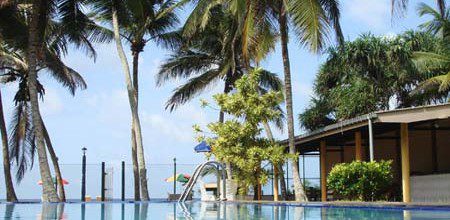 Good news! Our 200 hour Yoga Teacher Training and hypnotherapy diploma course will start at a new location: in 2016 we will offer courses in Hikkaduwa, Sri Lanka!
Our Offer
We are offering the courses in one of the most beautiful landscapes South Asia has to offer. The garden of our venue leads straight to the beach, where the sound of the waves will calm your spirits and give you the focus you need.
It is a 4-week residential 200 hour Yoga Teacher Training in Sri Lanka, accredited with Yoga Alliance International (YAI). It is integral traditional classical Yoga following the teaching method of Swami Vivekananda Yoga, Anusandhana Samsthana (S-VYASA), Yoga University at Bangalore in India. The training covers theory and practical applications to all aspects of yoga. Suitable for beginners to advanced students and teachers. It is designed to make students confident and effective in yoga instruction.
Hikkaduwa
Hikkaduwa is located 100 km south of Colombo, Sri Lanka´s capital city. Once a small village that was inhabited exclusively by fishermen and women, the place got known for it´s beautiful coral reefs and beaches and alternative tourism started to flourish. Snorkeling and surfing are only two of several fascinating activities there are to do at Hikkaduwa.
The Curriculum
The YTT in Sri Lanka will teach you how to confidently teach Yoga Asana, Pranayama, meditation, Kriyas, Mudras, Mantra, and Yoga Philosophy, among others. The course will take place in Hikkaduwa. Please have a look at our current dates.
We will be happy to save you a spot!
See us in the The International Yoga Centers Directory!
---