Become a certified yoga teacher & hypnotherapist with us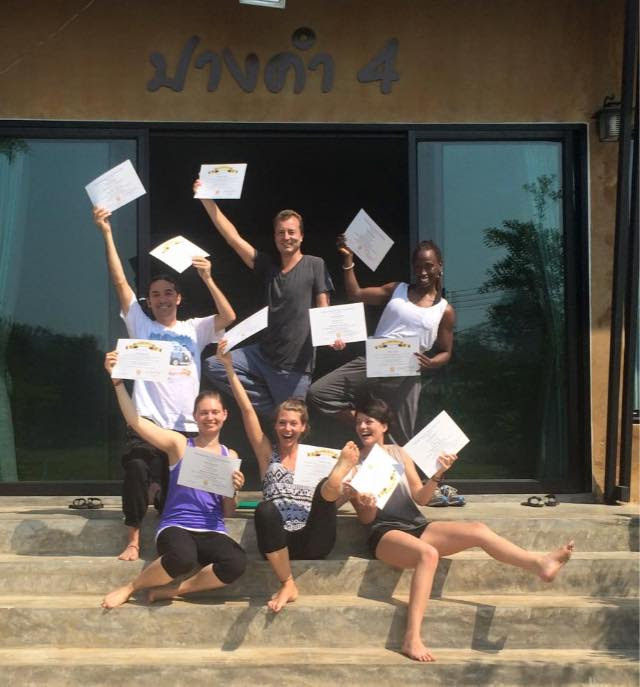 Our intensive yoga teacher and hypnotherapy diploma courses are taking place in two wonderful spots in Asia: In Chiang Rai in the northernmost province of Thailand, in Hikkaduwa on the southern coast of Sri Lanka and at the beach of Candidasa on the island of Bali in Indonesia. Listed below you will find all the information you need regarding dates & fees for 2022.
Dates
Yoga Teacher Training – BALI, INDONESIA
July 17 – August 13 2022
Session starts at 7.30 p.m. on July 17
August 21 – September 17 2022
Session starts at 7.30 p.m. on August 21
September 25 – October 22 2022
Session starts at 7.30 p.m. on September 25
November 6 – December 3 2022
Session starts at 7.30 p.m. on November 6
December 4 – December 31 2022
Session starts at 7.30 p.m. on December 4
Course Fees
Thailand, Sri Lanka & Bali — Course Fee
US $4450
$ 500 early bird discount:
US $3950
if you pay 40 days before start of the training
The students can register and secure a place in the Yoga Teacher Training Certificate & Hypnotherapy Diploma Certificate program by paying a
$350 deposit
. The balance of the course fee must be paid by 1 month prior to the start date; if not, the student's place may be given to someone else on the waiting list and the deposit forfeited.
Course fee includes:
Tuition fees
Tuition fees
Examination fees
Course material
Certificates: Yoga Teacher Certificate & Hypnotherapy Diploma Certificate
Meals: Healthy vegetarian food – 3 meals per day
Free WIFI
Use of swimming pool
Chiang Rai: One day tour Trekking & Elephant Safari – visit 4 different hill tribes villages (Karen, Lahu, Akha, Yao), waterfalls, boat trip on Kok River, and the Elephant Safari through the forest
Bali: One day snorkeling and boattrip
Sri Lanka: One day nature trip
Accommodation: Shared twin bed room, 2 persons of the same gender, type of room: superior villa.
Students who wish to have their own private room should book in advance and pay an additional amount of US $500. Students who wish to come earlier or extend their stay at the resort, will be responsible for their own costs. For the rates please look for Poonyamantra Resort for Chiang Rai, for Sri Lanka visit Hotel Ocean View Cottage and for Bali, please The Puri Pandan Bungalows.

Maximum group size of 10
With a small group size, we ensure every student gets personalized guidance, support, and mentoring sessions. Course is limited to 10 people to ensure students have their individual needs met!