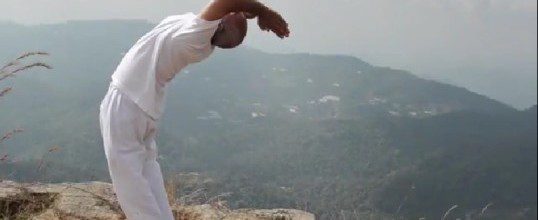 The Surya Namaskar is the yogi's way of honoring the sun, which symbolizes the spiritual consciousness. There are two ways of performing it: a basic sun salutation which consists of 10 poses practiced in sequence, and a second variation with 12 steps.
There are many benefits to doing the Sun Salutation. It can improve your posture, strengthen your muscles,and establish your breathing rhythm. It's a very good way to stay in shape, as it's an excellent cardiovascular workout–you do it at the pace you want. It also improves awareness and concentration, and it strengthens your spine.
The Sun Salutation is a combination of Yoga poses and Pranayama that can bring a sense of well being. Of course, there are also some contraindications. Those with heart problems, arthritis or back problems have to get their doctor's consent before practicing the Surya Namaskar.
Learn out how to do the Sun Salutation by checking out the following video, as demonstrated by Patanjali Institute's Dr. Sohail Ebady:
His full article on the Surya Namaskar was published by Aura Wellness Center: Surya Namaskar: Honoring the Sun.
About Us:
The Patanjali Institute has a unique program that combines yoga teacher training and clinical hypnotherapy training in Chiang Rai near Chiang Mai, Thailand and in Bali, Indonesia. If you want to become a yoga teacher in Thailand, check out our schedule for upcoming classes and availability. If you want to become a yoga instructor in Bali, here's our schedule.
---